TM Capital Advises DiversiTech in its Acquisition by The Jordan Company
May 2015 | News & Press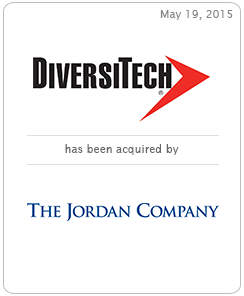 TM Capital, a leading middle market investment banking firm with offices in New York, Boston and Atlanta, served as exclusive financial advisor to DiversiTech Corporation ("DiversiTech") – North America's leading resource for a wide array of engineered aftermarket parts and components used in the repair, replacement and installation of residential HVACR systems – in its sale to The Jordan Company, a New York-based private equity firm.
DiversiTech is the market leading manufacturer and distributor of HVACR equipment pads and offers an extensive, proprietary portfolio of condensate management equipment, HVACR maintenance chemicals and electrical accessories.  The Company's breadth of offerings, extraordinary product innovation capabilities and industry leadership combine to position DiversiTech as the "one-stop-source" for HVACR distributors nationwide.
TM Capital has been a long term advisor to DiversiTech Corporation, assisting the Company with five transactions over the last decade. Our advisory work has helped DiversiTech secure its market leading position and access the capital needed to fuel consistent, impressive growth in revenues and profitability through a period which saw the deepest housing recession in United States history.
"Over the past ten years, we have consistently turned to TM Capital for expert advice on a range of initiatives – from equity and debt recapitalizations to acquisitions and divestitures," said Charles Lipman, Chairman of Diversitech.  "Their industry knowledge, global access to decision makers, creative approach to transaction execution and remarkable attention to the smallest detail has helped DiversiTech successfully execute on all of these initiatives – culminating in this transformative partnership with The Jordan Company.  All of our shareholders, managers and associates at DiversiTech are thrilled with this latest transaction outcome and our new partner."
The Jordan Company, with over $8 billion of cumulative equity commitments, is one of the world's most respected investors in middle market industrial businesses and has a storied history of partnering with management teams to build long term value.  Headquartered in New York, The Jordan Company also has offices in Chicago and Shanghai.
About TM Capital
TM Capital Corp. is a partner-owned investment banking firm based in New York, Boston and Atlanta, which has completed over 275 transactions with a combined value in excess of $17 billion. Since 1989, we have advised clients navigating a full range of critical transactions, including complex mergers, acquisitions, debt and equity financings, minority and majority recapitalizations, restructurings, and advisory services including takeover defense, fairness and solvency opinions and valuations. We have built deep industry expertise in key sectors and our team regularly publishes research highlighting current and emerging trends in targeted industries and markets. TM Capital is a member firm of M&A International Inc., the world's leading alliance of mid-market investment banks with over 650 M&A professionals in 42 countries. Members have closed over 1,400 transactions totaling more than $75 billion in value over the past five years.