TM Capital Advises Midwest Wholesale Hardware in its Sale to High Road Capital Partners
March 2017 | News & Press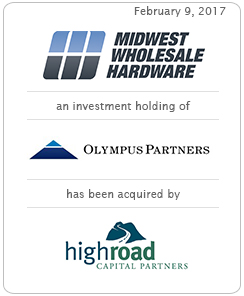 TM Capital is pleased to announce that we served as exclusive financial advisor to Midwest Wholesale Hardware, an investment holding of Olympus Partners, in its sale to High Road Capital Partners. Midwest Wholesale Hardware is a premier national wholesale distributor of commercial and institutional door hardware, electronic access controls and security solutions. TM achieved an exceptional outcome for the sellers by coordinating a highly competitive process that illustrated the Company's unique ability to serve immediate-need repair and maintenance demand with outstanding inventory depth, high-touch personalized service and value-added technical expertise. The transaction pairs management with the ideal financial partner to capitalize on Midwest's leadership position to accelerate a multi-faceted growth plan and pursue strategic acquisitions.
Midwest Wholesale Hardware, headquartered in Kansas City, is a premier national wholesale distributor of commercial and institutional fire and life safety door hardware, electronic access controls and security solutions
With the industry's largest next-day fulfillment platform, the Company provides expert customer service and offers an extensive inventory for immediate-need applications
This is the second transaction completed by TM Capital professionals for a middle market investment holding from Olympus Partners' portfolio
Management and High Road Capital Partners plan to accelerate the Company's growth by expanding its distribution coverage and pursuing strategic acquisitions
What Our Clients are Saying
"While the private equity ownership of Midwest Wholesale Hardware had worked with the TM Capital team before, this was my first experience with them. What impressed me was the time they took to dig into and build out our company's story in a compelling way, and then take our story effectively to the market. They prepared management well for each stage of our interactions and enabled us to focus on running the business. The senior partners were there literally every step of the way, and we enjoyed working with the whole team. In the end, they helped us find the right new partner in High Road Capital: a firm that knew our space and is excited to support us in our future growth plans."
-Chris Casazza, CEO, Midwest Wholesale Hardware 
About TM Capital

TM Capital Corp. is a partner-owned investment banking firm based in New York, Boston and Atlanta which has completed over 300 transactions with a combined value in excess of $17.5 billion. Since 1989, we have advised clients navigating a full range of critical transactions including complex mergers, acquisitions, debt and equity financings, minority and majority recapitalizations, restructurings, and advisory services including takeover defense, fairness and solvency opinions and valuations. We have built deep industry expertise in key sectors, and our team regularly publishes research highlighting current and emerging trends in targeted industries and markets. TM Capital is a member firm of Oaklins, the world's most experienced mid-market M&A advisor with over 700 M&A professionals in over 60 offices operating in the major financial centers in the world. Members have closed over 1,500 transactions totaling more than $75 billion in value over the past five years.
TM Capital is an independent investment banking firm that is affiliated with Oaklins. Oaklins is the collective trade name of independent member firms affiliated with Oaklins International Inc. For details regarding the nature of this affiliation, please refer to www.oaklins.com/legal.