TM Capital Relocates its Boston Office
March 2015 | News & Press
TM Capital is pleased to announce that as of March 2015, we have relocated our Boston office to the 32nd floor of One Boston Place.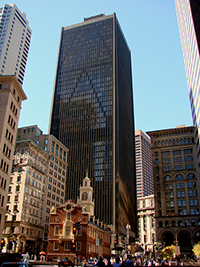 Originally built in 1970, One Boston Place is a major landmark in Boston and home to some of the city's most prestigious financial, legal and real estate firms.
"This is an exciting move for our Boston colleagues and another significant milestone in the evolution of our firm," said Jim Grien, President and CEO of TM Capital. "Our new office is strategically located with easy access to our corporate, financial, legal and accounting relationships, and we are surrounded by clients and friends of the firm. All of us are excited to be a part of the vibrant and historic Faneuil Hall and Downtown Crossing district."
TM Capital's new Boston office address is:
One Boston Place
201 Washington Street, 32nd Floor
Boston, MA 02108
Whether you're already in the area or are planning a trip to Boston, our doors are always open and we look forward to hosting you in our new office.