TM Capital Wins Technology, Media, Telecom Deal of the Year (Under $1 Billion)
May 2013 | News & Press
For the acquisition of BWise B.V. by NASDAQ OMX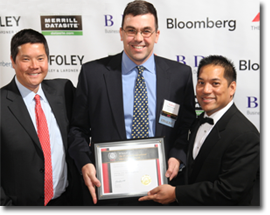 New York, NY – May 14, 2013 – TM Capital is pleased to announce that we have been awarded the Technology, Media, Telecom Deal of the Year (Under $1 Billion) for the acquisition of BWise B.V. by NASDAQ OMX. The honors were announced at the 5th Annual International M&A Awards, held in May at the New York Athletic Club. The gala honors the leading dealmakers and firms whose activities set the standard for cross border transactions.
Selected from over 260 nominating companies, TM Capital's transaction, BWise B.V. acquired by NASDAQ OMX was also selected as a finalist for M&A Deal of the Year and Corporate/Strategic Acquisition of the Year.
Click here for more on the acquisition of BWise B.V. by NASDAQ OMX.
About TM Capital
TM Capital Corp. is a partner-owned investment banking firm based in New York, Boston and Atlanta, which has completed over 250 transactions with a combined value in excess of $13.5 billion.  Since 1989, we have advised clients navigating a full range of critical transactions, including complex mergers, acquisitions, debt and equity financings, minority and majority recapitalizations, restructurings, and advisory services including takeover defense, fairness and solvency opinions, valuations, as well as litigation support.  We have built deep industry expertise and our team regularly publishes research highlighting current and emerging trends in targeted industries and markets.  TM Capital is a member firm of M&A International Inc., the world's leading alliance of mid-market investment banks with over 600 M&A professionals in 40 countries.  Members have closed over 1,300 transactions totaling more than $75 billion in value over the past five years.