TM Capital Joins Forces with Asante Partners to Form TM Asante Healthcare Partners
April 2013 | News & Press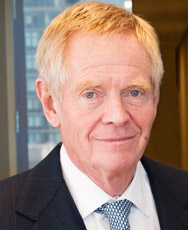 New York, NY – April 9, 2013 – TM Capital is pleased to announce an important milestone in the growth of our global healthcare investment banking practice with the addition of James McLaren, the co-founder of Asante Partners and a respected architect of key strategic transactions in medical devices, life sciences, diagnostics, pharmaceuticals, biotechnology and healthcare services.  McLaren joins TM Capital as a Managing Director and will focus on continuing to build our healthcare practice – now called TM Asante Healthcare Partners.
Together, TM Capital and Asante Partners have completed over 75 healthcare mergers, acquisitions and financings valued at over $3 billion.  "Our expanded platform leverages deep knowledge and relationships in key healthcare sectors to provide clients with a global range of transactional capabilities.  James brings decades of dedicated healthcare investment banking experience to our team that will greatly enhance our practice.  We are pleased to be joining forces with an industry leader," said Jim Grien, President and CEO of TM Capital.
James McLaren was previously with Asante Partners, a practice he founded more than twenty years ago to provide quality strategic advice to middle-market healthcare companies.  Prior to that, James spent two decades advising corporate clients at Goldman Sachs, where he served as head of European Corporate Finance in London and of International Corporate Finance in New York.
For more information on TM Asante Healthcare Partners visit www.tmcapital.com/tm-asante.
About TM Capital
TM Capital Corp. is a partner-owned investment banking firm based in New York, Boston and Atlanta, which has completed over 250 transactions with a combined value in excess of $13.5 billion. Since 1989, we have advised clients navigating a full range of critical transactions, including complex mergers, acquisitions, debt and equity financings, minority and majority recapitalizations, restructurings, and advisory services including takeover defense, fairness and solvency opinions, valuations, as well as litigation support. We have built deep industry expertise in key sectors and our team regularly publishes research highlighting current and emerging trends in targeted industries and markets. TM Capital is a member firm of M&A International Inc., the world's leading alliance of mid-market investment banks with over 600 M&A professionals in 40 countries. Members have closed over 1,300 transactions totaling more than $75 billion in value over the past five years.