TM Capital Attends the 60th M&A International Conference and the 13th M&A Mid-Market Forum in Brussels
March 2013 | News & Press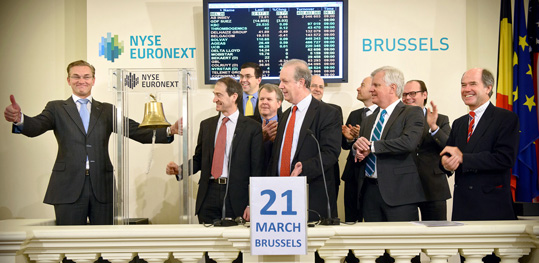 New York, NY – March 25, 2013 – TM Capital's Brad Adams and Devin Chasanoff attended the 13th M&A Mid-Market Forum (MMF) in Brussels, Belgium on Thursday March 21st.  The Forum, which kicked-off with a Bell Ringing Ceremony at the NYSE Euronext announcing the opening of the markets, was organized by M&A International Inc. (MAI), the world's leading M&A alliance.  The Forum attracted over 160 M&A International partners from more than 40 countries who met with over 60 industrial clients and relationships of various MAI partner firms over the course of the half-day event. The MMF is the external portion of the MAI Spring Conference and is specifically designed to facilitate networking and provide a forum to discuss M&A strategy and uncover potential business opportunities through a series of pre-arranged private meetings. Over 600 one-on-one meetings were held between strategic leaders from the corporate world and M&A International professionals from around the globe based on specific geographical and sector interests.
The MMF was a successful start to the five-day Spring Conference.  Over the next four days, M&A International partners met to share best practices, discuss M&A opportunities in a wide range of industry sectors and geographies, and review the distinct approaches used by MAI partners around the world to win mandates and ultimately close successful transactions.
The conference also marked the launch of M&A International's new Media Group, as well as the addition of Moscow-based LATUM Investment Banking Services, a middle-market investment banking firm established in 2006 by top managers from Russian and Western investment banks, to the organization.
This year's Spring Conference was extremely successful as it reinforced M&A International's leadership position in the global M&A market and further demonstrated how MAI partners collaborate to deliver expert-based, global advisory services that are unparalleled in the industry.  M&A International's Fall Conference will be held from October 17 – 19, 2013 in Bangkok, Thailand.  For more information, visit www.mergers.net.
About TM Capital
TM Capital Corp. is a partner-owned investment banking firm based in New York, Boston and Atlanta, which has completed over 250 transactions with a combined value in excess of $13.5 billion. Since 1989, we have advised clients navigating a full range of critical transactions, including complex mergers, acquisitions, debt and equity financings, minority and majority recapitalizations, restructurings, and advisory services including takeover defense, fairness and solvency opinions, valuations, as well as litigation support. We have built deep industry expertise in key sectors and our team regularly publishes research highlighting current and emerging trends in targeted industries and markets. TM Capital is a member firm of M&A International Inc., the world's leading alliance of mid-market investment banks with over 600 M&A professionals in 40 countries. Members have closed over 1,300 transactions totaling more than $75 billion in value over the past five years.