TM Capital Advises AirWorx in its Sale to KVCI
August 2016 | News & Press
TM Capital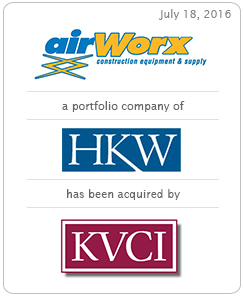 is pleased to announce that we served as exclusive financial advisor to AirWorx Construction Equipment & Supply, LLC – a leading Midwest provider of aerial rental equipment, service, and sales – in its sales to Konza Valley Capital, Inc. ("KVCI"), a Kansas-City based private equity sponsor. TM Capital worked closely with the management team and AirWorx's private equity sponsor, Hammond, Kennedy, Whitney & Company ("HKW"), to develop an investment thesis highlighting the Company's unique operating model and industry tailwinds supporting the aerial equipment rental market. We then coordinated a robust marketing process that ultimately resulted in completing a transaction with KVCI. KVCI will provide AirWorx with the resources and capital necessary to continue pursuit of profitable growth opportunities.
TM Capital served as exclusive financial advisor to AirWorx, a portfolio company of Hammond, Kennedy, Whitney & Company, Inc., in the sale to Konza Valley Capital, Inc.
AirWorx is a major independent aerial equipment rental, sales, and service company headquartered in Indiana
TM Capital's professionals have closed six equipment rental transactions in recent years, evidence of our unique knowledge and understanding of the category
The sales of AirWorx marks TM Capital's eleventh completed transaction with HKW and its affiliates spanning a relationship over 25 years
Konza Valley Capital, Inc. provides private equity capital to companies primarily in the Midwest
What Our Clients are Saying
"We appreciated the focused attention and commitment that TM devoted to managing the sale of AirWorx. They leveraged their deep industry experience in the equipment rental space to execute a transaction that minimized the demands on management and identified the right buyer. We wish the best to Tim Tilton and his management team as they begin their next partnership."  
-Caroline Young, Partner, HKW
About TM Capital

TM Capital Corp. is a partner-owned investment banking firm based in New York, Boston and Atlanta, which has completed over 300 transactions with a combined value in excess of $17.5 billion. Since 1989, we have advised clients navigating a full range of critical transactions, including complex mergers, acquisitions, debt and equity financings, minority and majority recapitalizations, restructurings, and advisory services including takeover defense, fairness and solvency opinions and valuations. We have built deep industry expertise in key sectors and our team regularly publishes research highlighting current and emerging trends in targeted industries and markets. TM Capital is a member firm of M&A International Inc., the world's leading alliance of mid-market investment banks with over 650 M&A professionals in 40 countries. Members have closed over 1,400 transactions totaling more than $75 billion in value over the past five years.