TM Capital Advises Vanguard in its Sale to Stephens
July 2016 | News & Press
TM Capital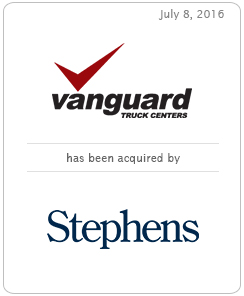 is pleased to announce that we served as exclusive financial advisor to Vanguard Truck Centers – the largest multi-regional truck dealership platform in the Volvo/Mack dealer network – in its sales to Stephens Capital Partners, the Little-Rock-based family office of Stephens Inc. Family-owned for over 25 years, Vanguard has succeeded by expertly managing locations across disparate geographies, growing via greenfield expansion and opportunistic acquisitions, while maintaining best-in-industry operations. TM Capital worked collaboratively with Vanguard's leadership team to craft and communicate an investment thesis highlighting underappreciated and virtuous industry trends. We then orchestrated a competitive, value-maximizing process which resulted in a compelling transaction with Stephens. Partnering with Stephens provides Vanguard with shareholder liquidity and enhanced access to capital to support strategic expansion.
TM Capital served as exclusive financial advisor to Vanguard Truck Centers in its sale to Arkansas-based Stephens Capital Partners
Vanguard is the largest Volvo / Mack multi-regional Class 8 truck dealership platform in North America and a leading innovator in the dealer system
Through its network of dealership and service locations spanning major markets in five states, Vanguard offers new and used truck sales; aftermarket parts, service and repairs; leasing and rental; and financing and insurance products
The Company is a favored consolidator by AB Volvo, which values Vanguard's operational expertise across multiple, non-contiguous markets and demonstrated success in acquiring and growing dealers
Stephens Capital Partners is the family office of Stephens, Inc., a privately held, independent financial services firm with over 25 offices
What Our Clients are Saying
"In our business, I preach commitment to our customers every day. TM Capital demonstrated the same relentless commitment to us that I expect of the Vanguard organization. For nearly a year we worked together to achieve a set of important objectives for our business and our family. And despite what proved to be a rapidly changing and challenging industry environment, we were able to engineer a superior outcome; one that provides our family with liquidity and our leadership team with an institutional partner focused on supporting us for the long term to exploit the many growth opportunities ahead for Vanguard, At our first meeting, they talked about a "walk through the walls" approach to advising our business, and they more than lived up to that standard, For any entrepreneur-owned company seeking world-class advice, access and execution, I would recommend TM Capital without reservation."
-Tom Ewing, President and CEO, Vanguard Truck Centers
About TM Capital

TM Capital Corp. is a partner-owned investment banking firm based in New York, Boston and Atlanta, which has completed over 300 transactions with a combined value in excess of $17.5 billion. Since 1989, we have advised clients navigating a full range of critical transactions, including complex mergers, acquisitions, debt and equity financings, minority and majority recapitalizations, restructurings, and advisory services including takeover defense, fairness and solvency opinions and valuations. We have built deep industry expertise in key sectors and our team regularly publishes research highlighting current and emerging trends in targeted industries and markets. TM Capital is a member firm of M&A International Inc., the world's leading alliance of mid-market investment banks with over 650 M&A professionals in 40 countries. Members have closed over 1,400 transactions totaling more than $75 billion in value over the past five years.