TM Capital Advises GMD PharmaSolutions in its Sale to McKesson Corporation
April 2017 | News & Press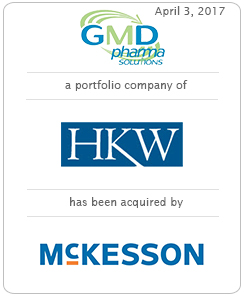 TM Capital is pleased to announce that we served as exclusive financial advisor to GMD PharmaSolutions ("GMD"), a portfolio company of Hammond, Kennedy, Whitney & Company, Inc. ("HKW"), in its sale to McKesson Corporation. GMD is a leading distributor of specialty pharmaceuticals focusing on the supply of ophthalmic drugs requiring cold chain expertise to clinics across Canada. TM leveraged its deep knowledge in the healthcare services and pharmaceutical sectors to maximize value for GMD's stakeholders and align the Company with a global strategic partner. The acquisition enables McKesson (NYSE:MCK) to expand its specialty pharmaceutical presence in Canada.
Based in Oakville, Ontario, GMD offers turnkey solutions from initial importation to distribution / wholesale, pharma consulting, customized patient reimbursement programs, pharmacy dispensing and patient administration coordination
GMD successfully pioneered innovative supply methods to improve efficiency in the point-of-care administration of high-value pharmaceuticals
McKesson Corporation, with revenues of over $200 billion, is a global pharmaceutical distribution services and information technology company
TM Capital's relationship with HKW, a private equity firm founded in 1903 with offices in Indianapolis and New York, spans over 25 years
What Our Clients are Saying
"TM Capital's healthcare services industry knowledge, experience, and relationships were instrumental in completing an attractive transaction for GMD.  In hiring an investment bank, we sought a team that could best articulate GMD's value drivers – TM exceeded our expectations in crafting a compelling investment thesis, and then engineering an extraordinary outcome with a global strategic buyer that will support management's growth initiatives.  HKW appreciates the senior commitment, expertise and collaborative approach that TM has brought to our transactions for more than 25 years."
-Glenn Scolnik, Chairman, GMD and Senior Partner, HKW
About TM Capital

TM Capital Corp. is a partner-owned investment banking firm based in New York, Boston and Atlanta which has completed over 300 transactions with a combined value in excess of $17.5 billion. Since 1989, we have advised clients navigating a full range of critical transactions including complex mergers, acquisitions, debt and equity financings, minority and majority recapitalizations, restructurings, and advisory services including takeover defense, fairness and solvency opinions and valuations. We have built deep industry expertise in key sectors, and our team regularly publishes research highlighting current and emerging trends in targeted industries and markets. TM Capital is a member firm of Oaklins, the world's most experienced mid-market M&A advisor with over 700 M&A professionals in over 60 offices operating in the major financial centers in the world. Members have closed over 1,500 transactions totaling more than $75 billion in value over the past five years.