TM Capital Advises Pride Equipment in its Sale to Sunbelt Rentals
March 2017 | News & Press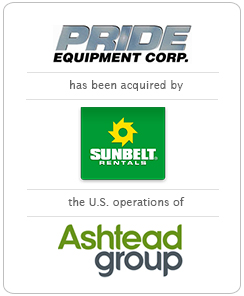 TM Capital is pleased to announce that we served as exclusive financial advisor to Pride Equipment Corporation ("Pride") in its sale to Sunbelt Rentals. Based in Islip, New York and owned by the Noto family for over 47 years, Pride is a leading provider of aerial equipment rental services to the vibrant New York metropolitan marketplace and is one of the largest independent specialty equipment rental companies in the United States. Sunbelt, one of the largest equipment rental companies in North America, constitutes the U.S. operations of Ashtead Group plc (AHT.L), which has a market capitalization of over $10 billion.
TM Capital worked closely with the Noto family to develop an investment thesis highlighting Pride's superior equipment utilization rates, culture of outstanding customer service and robust growth opportunities. TM Capital coordinated a focused global marketing process that ultimately resulted in a successful transaction with Sunbelt.
Ashtead's chief executive, Geoff Drabble, commented: "This acquisition further enhances Sunbelt's position in the important New York City market. Pride's focus on aerial equipment is complementary to Sunbelt's capabilities in a broader range of smaller and medium size equipment and there will be significant opportunities to cross-sell to the enlarged customer base. This acquisition is consistent with our long-term strategy to take advantage of structural growth opportunities through both organic investment and bolt-on acquisitions. I would also like to welcome all of the Pride employees who will be joining Sunbelt as part of the acquisition and look forward to working with them to deliver on the major opportunities ahead."
TM Capital served as exclusive financial advisor to Pride Equipment Corporation in its sale to Sunbelt Rentals for $279 million in cash
Headquartered in Islip, New York, Pride is the number one specialty aerial equipment rental services company in the New York metropolitan area and one of the largest independent aerial equipment rental companies in the U.S.
TM Capital's professionals have closed seven equipment rental transactions in recent years, evidence of our unique knowledge and understanding of the category
The transaction represents another success story for TM Capital which has a long history of representing family and entrepreneur-owned businesses
Sunbelt Rentals constitutes the U.S. operations of Ashtead Group plc, a UK-based, publicly traded international equipment rental company with a market capitalization of over $10 billion
What Our Clients are Saying
"TM Capital was the ideal advisor to help us successfully complete the sale of our 47-year old family business. The team's proven experience in the equipment rental industry, senior-level commitment and guidance in helping us navigate all aspects of this important and emotional event in our lives was evident throughout the process. TM Capital understood how important it was for us to find an acquirer of Pride that not only recognized the value of the Company, but also provided substantial growth opportunities for our employees. We are thankful to TM Capital for their expert guidance and support throughout the process."
-Charles Noto & John Noto, Co-Founders, Pride Equipment Corporation
About TM Capital

TM Capital Corp. is a partner-owned investment banking firm based in New York, Boston and Atlanta which has completed over 300 transactions with a combined value in excess of $17.5 billion. Since 1989, we have advised clients navigating a full range of critical transactions including complex mergers, acquisitions, debt and equity financings, minority and majority recapitalizations, restructurings, and advisory services including takeover defense, fairness and solvency opinions and valuations. We have built deep industry expertise in key sectors, and our team regularly publishes research highlighting current and emerging trends in targeted industries and markets. TM Capital is a member firm of Oaklins, the world's most experienced mid-market M&A advisor with over 700 M&A professionals in over 60 offices operating in the major financial centers in the world. Members have closed over 1,500 transactions totaling more than $75 billion in value over the past five years.