TM Capital Advises MC Sign Company in Sale to Caltius Equity Partners
September 2015 | News & Press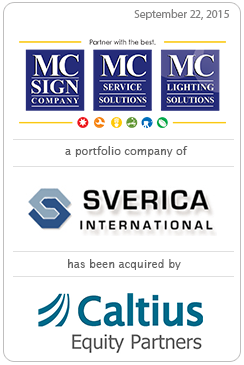 TM Capital is pleased to announce that we have advised MC Sign Company ("MC"), the preeminent asset light facility services platform in the sign and lighting trades, in its sale to Caltius Equity Partners ("Caltius"), a Los Angeles-based private equity firm. MC is a leading technology-enabled services company that provides a comprehensive range of recurring maintenance and program management solutions to national customers across a range of verticals. TM worked collaboratively with management and MC's private equity owners, Sverica International, to craft and communicate a compelling acquisition thesis and orchestrate a competitive, value-maximizing process. This is the latest in a series of transactions demonstrating our domain expertise in the field of asset light outsourced services and our ability to achieve extraordinary outcomes for clients in the business services industry.
MC, a Sverica International portfolio company, delivers comprehensive sign and lighting solutions including on-demand repair, route-based planned maintenance and national retrofit, installation and conversion program management
The Company is a trusted facility services partner for blue chip customers in the retail, quick serve restaurant, convenience store, financial services and hospitality markets
MC's best-in-class asset light model leverages a proprietary suite of technology solutions to manage an extensive network of field partners, balancing the responsiveness of a local service company with the efficiency, flexibility and accountability of a national, single-source facilities management organization
Caltius Equity Partners is a Los Angeles-based private equity firm with significant facilities services experience
What Our Clients are Saying
"Over the past several years, we have dedicated ourselves to building MC into a market-leading facility services platform. We are proud to have an advisor on our team that shares this level of dedication. TM Capital's business services expertise, senior level commitment and collegial approach were invaluable as we prepared for our next stage of growth and executed on this process. Our team is extremely enthusiastic about our new partnership with Caltius. TM played a critical role in helping us identify the best partner for MC and crafting an outcome that met all of our shareholders' objectives."
-Tim Eippert, President & CEO, MC Sign Company
About TM Capital

TM Capital Corp. is a partner-owned investment banking firm based in New York, Boston and Atlanta, which has completed over 275 transactions with a combined value in excess of $17 billion. Since 1989, we have advised clients navigating a full range of critical transactions, including complex mergers, acquisitions, debt and equity financings, minority and majority recapitalizations, restructurings, and advisory services including takeover defense, fairness and solvency opinions and valuations. We have built deep industry expertise in key sectors and our team regularly publishes research highlighting current and emerging trends in targeted industries and markets. TM Capital is a member firm of M&A International Inc., the world's leading alliance of mid-market investment banks with over 650 M&A professionals in 42 countries. Members have closed over 1,400 transactions totaling more than $75 billion in value over the past five years.