TM Capital Advises Nomura Research Institute in its Acquisition of Brierley+Partners
April 2015 | News & Press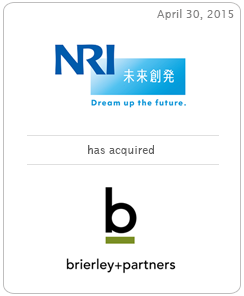 TM Capital, a leading middle market investment banking firm with offices in New York, Boston and Atlanta, served as exclusive financial advisor to Nomura Research Institute ("NRI", TYO: 4307), a global provider of consulting services and system solutions, in its acquisition of Brierley+Partners, a provider of Loyalty and CRM solutions headquartered in Plano, TX. With annual revenue of over ¥405 billion, Tokyo-based NRI is focused on aggressively expanding its reach in the U.S. and providing leading-edge solutions to its global, blue-chip customer base, particularly in the retail sector. Founded in 1985, Brierley+Partners offers a complete suite of CRM and Loyalty solutions, ranging from their award-winning strategic design services to their Brierley LoyaltyWare® technology platform. Brierley+Partners will serve as a cornerstone platform from which NRI can grow its Retail IT solutions business in the U.S. In addition, NRI's global presence and financial strength will enable Brierley+Partners to further advance its Loyalty solutions and expand its presence around the world, specifically in Asia.
TM Capital assisted NRI in refining its acquisition strategy, identifying and contacting potential acquisition targets and evaluating various targets in the Retail IT solutions sector. TM Capital evaluated targets in Retail IT sectors including point-of-sale, in-store display and marketing, marketing automation, mobile, e-commerce, retail analytics, loyalty and others. Brierley+Partners will complement NRI's existing Retail IT solutions business in the U.S. serving high profile brands including 7-Eleven, Hertz, GameStop and Express, among others.
"The acquisition of Brierley+Partners is an important step in NRI's strategy to expand our presence in the U.S. and better serve our global retail customers," said Hajime Ueda, Senior Corporate Managing Director of NRI. "TM Capital served as our trusted advisor during the entire acquisition process and helped us refine our acquisition strategy, identify potential targets, drive negotiations and close a transaction with one of the most venerable brands in the loyalty solutions sector. We truly appreciate their senior level dedication to this process, and their perseverance and counsel throughout this important transaction."
About TM Capital
TM Capital Corp. is a partner-owned investment banking firm based in New York, Boston and Atlanta, which has completed over 250 transactions with a combined value in excess of $16 billion. Since 1989, we have advised clients navigating a full range of critical transactions, including complex mergers, acquisitions, debt and equity financings, minority and majority recapitalizations, restructurings, and advisory services including takeover defense, fairness and solvency opinions and valuations. We have built deep industry expertise in key sectors and our team regularly publishes research highlighting current and emerging trends in targeted industries and markets. TM Capital is a member firm of M&A International Inc., the world's leading alliance of mid-market investment banks with over 650 M&A professionals in 42 countries. Members have closed over 1,400 transactions totaling more than $75 billion in value over the past five years.