TM Capital Completes Three Transactions in August
September 2012 | News & Press
September 6, 2012 – The dog days of summer were a busy time at TM Capital, with three August closings in the industrial, consumer and restaurant sectors. These completed engagements – two of which were for long term clients of the Firm – included portfolio realizations for two private equity sponsors and a restaurant brand divestiture. All three outcomes leveraged TM's global strategic advisory platform as well as our unique insights into the investment focuses of leading middle market private equity firms. We look forward to a sunny, colorful and busy autumn season.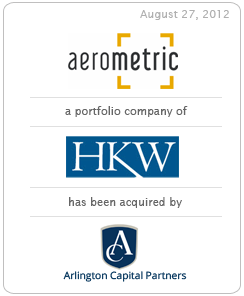 TM Capital structured and negotiated the sale of AeroMetric, Inc., a leading provider of aerial-based geospatial services and solutions, to Arlington Capital Partners, a Washington, D.C.-based private equity firm with government contracting, aerospace & defense and business services expertise.
AeroMetric was a portfolio company of Hammond, Kennedy, Whitney & Co., Inc. TM Capital has had a relationship with HKW spanning over 20 years and has now completed seven transactions with HKW and its affiliates.






TM Capital originated and executed the sale of The Home Service Store, Inc., a rapidly growing, asset light home improvement solutions provider, to Roark Capital Group and affiliates. Roark is an Atlanta-based private equity firm with deep consumer services and retail expertise. Post-closing, HSS will merge with Roark's portfolio company, Simply Floored. HSS was a portfolio company of Jupiter Partners, a leading middle market private equity firm with approximately $600 million of capital invested.






TM Capital served as exclusive financial advisor to Back Bay Restaurant Group, Inc. in its sale of Papa Razzi, a leading upscale casual restaurant chain offering northern Italian cuisine, to Newport Harbor Corporation. The Papa Razzi brand includes 10 Italian trattoria restaurants with locations in Massachusetts, Rhode Island, New York, New Jersey and Washington DC.
TM Capital previously negotiated the sale of Back Bay's brands Abe & Louie's, Atlantic Fish, Charley's, Coach Grill and Joe's American Bar & Grill to Tavistock Restaurants, LLC.
About TM Capital
TM Capital Corp. is a partner-owned investment banking firm based in New York, Boston and Atlanta, which has completed over 250 transactions with a combined value in excess of $13 billion.  Since 1989, we have advised clients navigating a full range of critical transactions, including complex mergers, acquisitions, debt and equity financings, minority and majority recapitalizations, restructurings, and advisory services including takeover defense, fairness and solvency opinions, valuations, as well as litigation support.  We have built deep industry expertise in key sectors and our team regularly publishes research highlighting current and emerging trends in targeted industries and markets.  TM Capital is a member firm of M&A International Inc., the world's leading alliance of mid-market investment banks with over 600 M&A professionals in 41 countries.  Members have closed over 1,400 transactions totaling more than $85 billion in value over the past five years.