TM Capital Completes Two Strategic Acquisitions for Global Power Equipment Group
September 2012 | News & Press
September 13, 2012 – TM Capital is pleased to announce the completion of two strategic acquisitions for Global Power Equipment Group Inc. (NASDAQ: GLPW). The Company, with revenues of over $450 million, provides custom-engineered auxiliary equipment and maintenance support services for the global power generation industry. TM Capital has now successfully closed three transactions for Global Power, including a cross-border divestiture, within the last year.




TM Capital advised Global Power on its acquisition of Koontz-Wagner Custom Controls Holdings LLC for $31.5 million. Koontz-Wagner is a leading manufacturer and integrator of engineered packaged control house solutions for the energy, oil & gas, and electrical industries.
The addition of Koontz-Wagner will expand Global Power's products portfolio and supports their expansion into adjacent infrastructure products and services.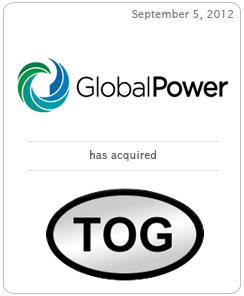 TM Capital advised Global Power on its acquisition of TOG Holdings, Inc. TOG provides precision machined OEM and aftermarket parts for the steam and natural gas turbine power generation market.
TOG, paired with Global Power's Consolidated Fabricators parts business, establishes a growth platform for aftermarket energy parts sales and expands their products portfolio to further serve the steam turbine segment.
About TM Capital
TM Capital Corp. is a partner-owned investment banking firm based in New York, Boston and Atlanta, which has completed over 250 transactions with a combined value in excess of $13 billion.  Since 1989, we have advised clients navigating a full range of critical transactions, including complex mergers, acquisitions, debt and equity financings, minority and majority recapitalizations, restructurings, and advisory services including takeover defense, fairness and solvency opinions, valuations, as well as litigation support.  We have built deep industry expertise in key sectors and our team regularly publishes research highlighting current and emerging trends in targeted industries and markets.  TM Capital is a member firm of M&A International Inc., the world's leading alliance of mid-market investment banks with over 600 M&A professionals in 41 countries.  Members have closed over 1,400 transactions totaling more than $85 billion in value over the past five years.