TM Capital Advises Time-Cap Labs in its Sale to Marksans Pharma
July 2015 | News & Press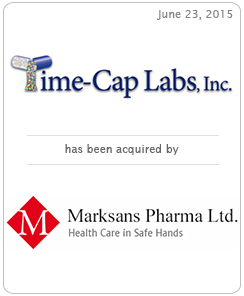 TM Capital is pleased to announce that we served as exclusive financial advisor to Time-Cap Labs, Inc. in its sale to Marksans Pharma Limited (BSE:524404), a global manufacturer and marketer of generic pharmaceuticals based in India. Time-Cap is a leading manufacturer of solid dose pharmaceuticals, including private label over-the-counter (OTC) medications, generic prescription drugs and nutritional supplements. The acquisition enables Marksans to strategically expand its presence in the U.S. market and provides liquidity to Time-Cap's founder who established the business over 35 years ago. This transaction highlights TM Capital's global capabilities and specialized expertise in the healthcare sector.
Time-Cap possesses differentiated manufacturing capabilities with competitive advantages in extended and delayed-release products and specialized coating expertise
Marksans Pharma Limited, headquartered in Mumbai, India, manufactures and markets generic OTC and prescription pharmaceuticals globally and has a market cap of over $550 million
The strategic acquisition of Time-Cap provides Marksans with its first manufacturing facility in the U.S., an expanded product portfolio and capabilities to pursue ANDAs for high margin products
What Our Clients are Saying
"Selling a business you started and have grown over four decades represents the realization of your life's work, and our advisors at TM Capital clearly understood the importance of this transaction to the Errigo family. TM Capital's deep industry knowledge, global reach, trusted advice and extraordinary perseverance were keys to generating a superior outcome – and we feel incredibly lucky to have had them by our side throughout this process."
-Joseph Errigo, Founder & CEO
About TM Capital

TM Capital Corp. is a partner-owned investment banking firm based in New York, Boston and Atlanta, which has completed over 275 transactions with a combined value in excess of $17 billion. Since 1989, we have advised clients navigating a full range of critical transactions, including complex mergers, acquisitions, debt and equity financings, minority and majority recapitalizations, restructurings, and advisory services including takeover defense, fairness and solvency opinions and valuations. We have built deep industry expertise in key sectors and our team regularly publishes research highlighting current and emerging trends in targeted industries and markets. TM Capital is a member firm of M&A International Inc., the world's leading alliance of mid-market investment banks with over 650 M&A professionals in 42 countries. Members have closed over 1,400 transactions totaling more than $75 billion in value over the past five years.