TM Capital Advises Backyard Discovery in its Sale to Aterian Investment Partners
August 2015 | News & Press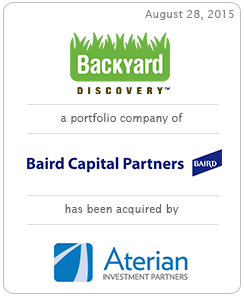 TM Capital is pleased to announce that we served as exclusive financial advisor to Backyard Leisure Holdings, LLC ("Backyard Discovery") – a leading supplier of residential backyard products and related "final mile" installation services – in its sale to Aterian Investment Partners, a New York-based private equity firm. Through its compelling Do-It-For-Me services offering – and leveraging a 25+ year legacy as a branded market leader in the backyard products arena – Backyard Discovery offers consumers a seamless, convenient product and installation solution unique to the category. The Company's best of breed nationwide installation services capability is a key marketplace differentiator and positions Backyard Discovery to capitalize on burgeoning consumer demand for turnkey product / installation solutions. TM coordinated a highly competitive process to maximize value for Backyard Discovery's shareholders, which included Baird Capital and senior management. This is the latest in a series of transactions showcasing TM Capital's expertise in achieving extraordinary transactional outcomes for branded consumer products businesses.
Backyard Discovery, a Baird Capital portfolio company, is the #1 supplier in North America of residential playsets and a leading resource in the playhouse and wooden shed markets
The Company's products – which are sold both in-store and online through big box and specialty retail channels such as Walmart, Sam's Club, The Home Depot and Dick's Sporting Goods – have earned market leading positions based on a reputation for quality and innovation
Backyard Discovery's unique, Do-It-For-Me business model – inclusive of proprietary branded products and home installation services – positions the Company for accelerating growth in a marketplace seeing increasing consumer demand for quality products paired with turnkey installation solutions
Aterian Investment Partners, with over $250 million of capital under management, focuses on acquisitions of middle-market companies possessing strong, proven franchises and experienced management teams
What Our Clients are Saying
"Baird Capital has enjoyed a successful relationship with Backyard Discovery since 2007. The management team's leadership and guidance positioned the Company as a market leader, despite a volatile economic and consumer spending environment, while evolving the direct to consumer and DIFM/installation capabilities. In selecting TM Capital as our advisor, we received experienced senior leadership and attention, deep Consumer/Retail sector knowledge and relationships, and a highly collaborative working style. The TM Capital team worked tirelessly on our behalf and helped us attract the right buyer for Backyard Discovery's future."
-David Pelisek, Partner, Baird Capital Partners
About TM Capital

TM Capital Corp. is a partner-owned investment banking firm based in New York, Boston and Atlanta, which has completed over 275 transactions with a combined value in excess of $17 billion. Since 1989, we have advised clients navigating a full range of critical transactions, including complex mergers, acquisitions, debt and equity financings, minority and majority recapitalizations, restructurings, and advisory services including takeover defense, fairness and solvency opinions and valuations. We have built deep industry expertise in key sectors and our team regularly publishes research highlighting current and emerging trends in targeted industries and markets. TM Capital is a member firm of M&A International Inc., the world's leading alliance of mid-market investment banks with over 650 M&A professionals in 42 countries. Members have closed over 1,400 transactions totaling more than $75 billion in value over the past five years.