TM Capital Advises Plum Lending in a Series A Investment from Renren
August 2015 | News & Press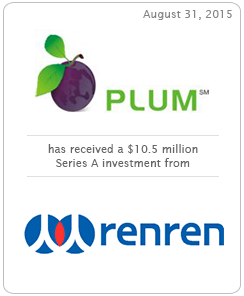 TM Capital is pleased to announce that we have advised Plum Lending ("Plum") in connection with a $10.5 million Series A investment by Renren, Inc. (NYSE:RENN). Plum is an innovative new entrant into the FinTech arena, focusing on commercial real estate (CRE) lending. Renren is a leading social networking internet platform in China whose prior FinTech investments include SoFi, LendingHome and Motif Investing. TM Capital assisted management in developing its business plan and attracting an institutional partner which will provide enhanced financial resources and strategic guidance as the Company scales its San Francisco operations and disrupts the antiquated CRE lending process. This transaction further highlights TM Capital's differentiated expertise in capital raising.
Plum combines innovative technology with a world-class team of real estate and FinTech professionals to deliver expedited credit evaluation, execution, and funding coupled with post-transaction resources which yield an unrivaled CRE client experience
Plum will utilize the capital investment to scale its team and bolster its web-based technology in order to provide borrowers with nationwide loan options and unique tools and analytics to enable smarter decision-making and a more transparent CRE lending experience
"Marketplace lenders," such as Plum, continue to attract tremendous interest within the FinTech sector, as disruptive technologies seek to capitalize on antiquated lending processes
What Our Clients are Saying
"We hired TM Capital because, as a start-up developing a potentially disruptive FinTech business model, we wanted their financial and general business insight as we fine-tuned our business and financial plans. In addition, we valued their experience in complex transactions, as well as their ability to deliver thoughtful advice applicable to the critical moments in any transaction. TM ran a very tight and well organized process and played a critical role in delivering an outcome that will position Plum for exponential growth with the support of a partner who has achieved tremendous success with other disruptive technologies in the FinTech arena."
-Bill Fisher, CEO, Plum Lending
About TM Capital

TM Capital Corp. is a partner-owned investment banking firm based in New York, Boston and Atlanta, which has completed over 275 transactions with a combined value in excess of $17 billion. Since 1989, we have advised clients navigating a full range of critical transactions, including complex mergers, acquisitions, debt and equity financings, minority and majority recapitalizations, restructurings, and advisory services including takeover defense, fairness and solvency opinions and valuations. We have built deep industry expertise in key sectors and our team regularly publishes research highlighting current and emerging trends in targeted industries and markets. TM Capital is a member firm of M&A International Inc., the world's leading alliance of mid-market investment banks with over 650 M&A professionals in 42 countries. Members have closed over 1,400 transactions totaling more than $75 billion in value over the past five years.