TM Capital Named as Finalist in Eight Categories for the 4th Annual ACG NY Champion's Awards
May 2014 | News & Press
TM Capital among top M&A deals, firms and professionals to be honored June 19 at the Metropolitan Club in NYC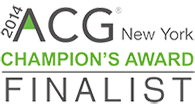 New York, NY – ACG® New York and The M&A Advisor announced today the names of companies, transactions and dealmakers selected as finalists for the ACG New York Champion's Awards, the two organizations' annual tribute to the outstanding achievements of participants in the middle market M&A industry in the greater New York metropolitan area. TM Capital is pleased to have been selected as a finalist in eight award categories for deals including the acquisition of TechHealth, Inc. by One Call Care Management, the acquisition of Canadian Hospital Specialties by Cortec Group, the acquisition of IBI, LLC by Global Power Equipment Group Inc., and the acquisition of NPG, Inc. by RockTenn Company. Winners will be announced at the Awards Gala on Thursday, June 19 at the Metropolitan Club in New York City.
Selected from over 350 participating companies in the first stage of evaluation, award finalists will now be judged by a panel of independent experts. TM Capital will be considered for Cross-Border Transaction of the Year, Deal of the Year, Healthcare Deal of the Year, Energy Deal of the Year, and Service Deal of the Year.
At the 3rd Annual Champion's Awards Gala in 2013, TM Capital was awarded the M&A Deal of the Year for the sale of AeroMetric, Inc. to Arlington Capital Partners, as well as the Industrial Goods and Basic Resources Deal of the Year for Valley Proteins' Acquisition of the Perdue Rendering Operations.
At the 2nd Annual Champion's Awards Gala in 2012, TM Capital was awarded a top honor of Investment Banking Firm of the Year, as well as Cross-Border Deal of the Year and Middle-Market Deal of the Year, both for the divestiture by Eastman Kodak Company of its Eastman Gelatine subsidiary.
About TM Capital
TM Capital Corp. is a partner-owned investment banking firm based in New York, Boston and Atlanta, which has completed over 250 transactions with a combined value in excess of $14 billion.  Since 1989, we have advised clients navigating a full range of critical transactions, including complex mergers, acquisitions, debt and equity financings, minority and majority recapitalizations, restructurings, and advisory services including takeover defense, fairness and solvency opinions, valuations, as well as litigation support.  We have built deep industry expertise and our team regularly publishes research highlighting current and emerging trends in targeted industries and markets.  TM Capital is a member firm of M&A International Inc., the world's leading alliance of mid-market investment banks with over 600 M&A professionals in 40 countries.  Members have closed over 1,300 transactions totaling more than $75 billion in value over the past five years.